Take 1 to 2 capsules per day or as directed by a healthcare professional
Please check with your doctor before taking these supplements if you are under medical supervision + if you are pregnant or breastfeeding
Food supplements should not be used as a substitute for a varied + balanced diet + healthy lifestyle
Keep out of sight + reach of children
Do not exceed the daily amount
Please stop taking these supplements if you react with any unusual or uncomfortable symptoms + talk to your doctor
PLEASE NOTE: there may be some natural variations in colour due to the active ingredients
29 body-ready ingredients including Vit D3, E, K, methylated B Vitamins + freeform amino acids + probiotics
Psychologist designed
Backed by science + research
One months supply: 60 capsules in each packet 
100% high strength active ingredients
Vegan + gluten free. 
No fillers + No allergens
Free from sugar, Stearic Acid, Silicon Dioxide, Flavourings, Glycerin,  Magnesium Stearate, Palm Oil, Gelatine or any other animal products
Made in Britain to ensure safety + quality
Suitable for anyone from age 18-100
 360° mental + physical health
For a calm, happy mood with more energy and balanced hormones by day and better sleep at night

Mood Me is an advanced multi-vitamin and mineral supplement

with probiotics and a unique blend of amino acids including
glutamine
tryptophan
tyrosine
acetylcholine
glycine
phenylalanine
to optimise your brain health in just 2 capsules a day
Would you like to get back to feeling like yourself again?
Did you know that nutrients can support your mental health as well as your physical health?
And that your brain needs a constant supply of 30 nutrients to keep working well?


When your brain needs nourishment you get a few clues. 


Do you recognise any of these feelings?

Low + flat + depressed

Anxious + nervous + stressed
Have unwanted, repetitive negative thoughts
Low self-esteem + poor self-confidence
Always tired + feel exhausted
Overwhelmed + burned out
Stuck + tearful
Numb + have no joy in your life
Have low energy + no enthusiasm or motivation
Find concentration + focus + remembering more difficult
Can't get to sleep or have disrupted sleep
Hormones feel out of balance 
If you are struggling with these symptoms then your brain is misfiring. 
It hasn't got the fuel that it needs to function fully effectively.


Mood Me naturally lifts your mood, helps you to feel calm but full of energy with balanced hormones, boosted immunity and better sleep.



Absolutely brilliant!

I've been taking these every day for 3 weeks and can honestly say this is the best I've felt in a long time. I've been quite tearful and plagued by low moods and negative thoughts but finally feel like me again, with a new zest for life. I just seen to be able to cope with life and everything it throws you me much better now. I've not seen any side effects and have more energy too. I'll be buying more soon!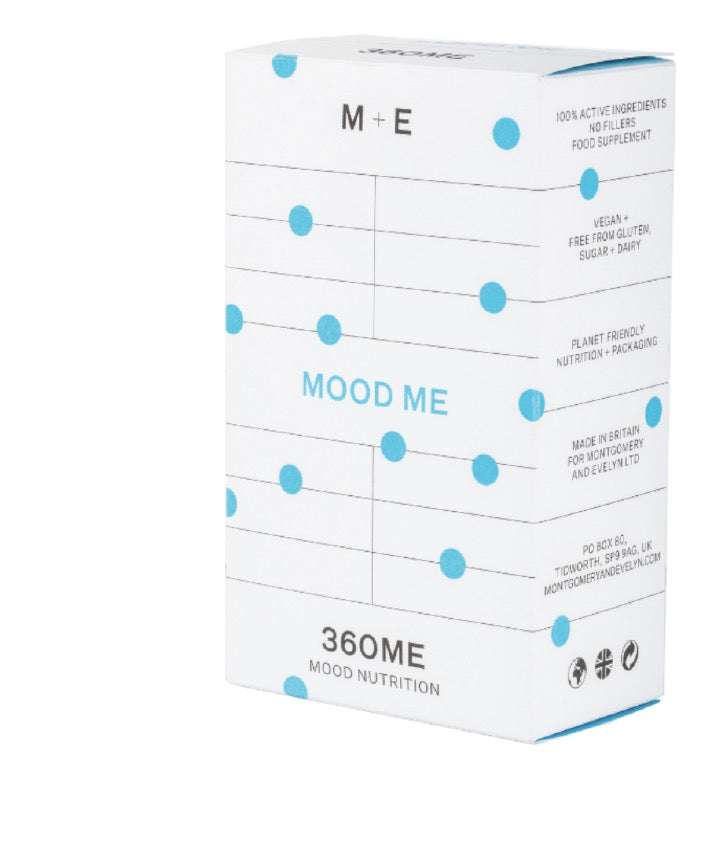 Why 360ME?
We make superblends of multivitamins that support your mental health as well as your physical health. Traditional multivitamins don't support your mental health, so we made one that will.
Science and research
What's in them?
Better mental health starts with the right ingredients which is why the first one in all our unique superblends is MoodNutritionPlus® - our trademarked, psychologist designed ingredient that you will only find in 360ME. And nowhere else.

We have put together powerful nootropics like L-Tryptophan and L-Tyrosine with Vitamins B12, B6, D3 along with a special blend of probiotics which start working from Day 1.